Gislason & Hunter's Minneapolis office focuses on Insurance & Reinsurance Practice Group and Medical Malpractice Practice Group. Along with Insurance & Reinsurance and Medical Malpractice, attorneys at the Minneapolis office also offer a full menu of legal services for practice areas including Corporate Law, Finance & Banking, Real Estate, Environmental Law & Land Use and Trusts & Estates.
Practice Areas
Industries
Careers
Currently, there are no career opportunities for our Minneapolis office. Please check back.
Gislason & Hunter LLP is an equal opportunity employer. We offer a competitive compensation package and comprehensive benefits.
Community
To see more about Gislason & Hunter's involvement in our communities, see our Facebook page.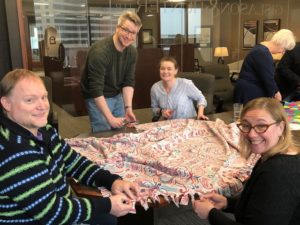 The Greater Twin Cities Area Linus Project
More than a dozen attorneys and staff from the Minneapolis office spent their lunch hour making fleece blankets for The Greater Twin Cities Area Linus Project, who provides homemade blankets to ill or in-need children in the Twin Cities area. The group's mission is "to provide love, a sense of security, warmth, and comfort to children who are seriously ill, traumatized, or otherwise in need through the gift of new, handmake blankets…" The volunteers cut and tied 4 fleece blankets to brighten the day of children in need.
Toys for Tots
Gislason & Hunter's Minneapolis office supports Toys for Tots, a favorite charity, where they hold an annual fund drive. The attorneys and staff are also very supportive of local food drives and make donations to Second Harvest Heartland. In 2019, Gislason & Hunter's Minneapolis office purchased 67 gifts including sleds, basketballs, baseballs, footballs, soccer balls, dolls, trucks, Legos and more.