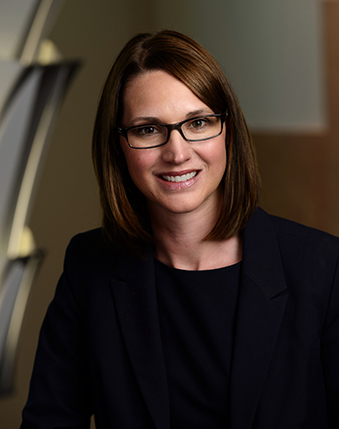 Jennifer G. Lurken
Jennifer's extensive legal expertise provides large and small businesses, agricultural producers, banks and individuals with effective outcomes. As an experienced litigator with an emphasis on bankruptcy, banking, civil litigation and employment law, Jennifer helps clients navigate the complex and confusing process when they are sued or when they need to assert their rights against another.
A seasoned professional in all aspects of bankruptcy and debtor-creditor rights, Jennifer handles complex and sophisticated matters on behalf of clients. Jennifer assists individual and business creditors attempting to collect through the bankruptcy process. Jennifer has served on the panel of Chapter 7 trustees and has acted as a receiver. As a trustee and receiver, Jennifer is the representative for the recovery, preservation, liquidation and distribution of estate and receivership assets and the fiduciary responsible to various parties in interest in a case.
Jennifer strives to understand the needs of each client and to provide counsel in a manner that will help to simultaneously achieve both business and professional objectives.
Areas of Expertise
Agriculture Law & Agribusiness
Ag Financing & Debt Restructuring

Agribusiness Formation & Transactions

Employment Matters

Ag Litigation
Business & Corporate Law
Business Entity Law & Formation, including LLC's, Partnerships and Corporations

Partner & Shareholder Agreements

Contracts

Purchase or Sale of Business

Employment & Human Resources

Creditors' Rights

Business & Succession Planning
Finance & Banking
Loan Transactions

Loan Workouts

Collection Actions

Portfolio Management

Regulatory Compliance

Employment & HR Consulting

Business Planning & Administration

Bank Litigation

Reorganization & Bankruptcy

Commercial Lending

Mergers & Acquisitions

Corporate Governance
Insurance
Litigation
Commercial Litigation

Ownership Disputes & Dissolutions

Business Torts Litigation

Employment Litigation

Insurance Defense

Construction Litigation

Banking Litigation

Real Estate Litigation

Property Disputes & Land Use

Civil Appellate Law
Trusts & Estates
Business Succession Planning
Experience
Litigation of Preference and Fraudulent Transfer Avoidance Claims

In 2016, Jennifer Lurken successfully defended her client against avoidance actions in excess of $20 million. The client had loaned $20 million to the bankrupt debtor and the bankruptcy trustee was attempting to undue the transaction and recover not just the principal paid to the client but the interest as well. Prior to trial, as a result of Jennifer's legal research and investigation skills, she was able to obtain a favorable settlement for the client. Jennifer routinely represents banks and other lenders in pursuing and defending fraudulent transfer claims.

Dispute Over Ownership of Real Property

In 2014, Jennifer Lurken successfully tried a dispute over ownership in the Bankruptcy Court. Jennifer's client was claiming ownership in real property based upon a signed deed from the debtor's father. The debtor's father claimed he had not executed the deed and therefore, he was the rightful owner of the real estate. The Bankruptcy Court ruled the deed was in fact signed by the debtor's father. Therefore, the real property was the debtor's asset and could be liquidated for the benefit of the unsecured creditors.

Representation of Secured Creditor in Bankruptcy Proceeding

In 2017, Jennifer Lurken represented a bank with a blanket security interest in all of the borrower's equipment and other personal property and real estate. After the debtor filed bankruptcy, Jennifer obtained relief from the automatic stay. Jennifer then used her negotiation skills to obtain an agreement from the bankruptcy trustee and the debtor for the turnover of the equipment and real estate via deeds in lieu of foreclosure. Jennifer has represented lenders in cases involving foreclosure, secured interests, priority disputes, tax liens and loan defaults.

Appointment as a Receiver

In 2012, Jennifer Lurken was appointed as the receiver to manage a hotel. The hotel owner was in default on its secured loan. The secured creditor desired the hotel to be sold as a going concern in an effort to maximize value for purposes of a sale. Jennifer installed new management over the hotel, decreased the deficit the hotel was operating under and sold the hotel, allowing the secured creditor to recover more than it would have recovered in a liquidation.

Enforcement of Non-Compete Agreement

Jennifer Lurken successfully tried a non-compete agreement case to a Judge to enforce a non-compete agreement. The employee claimed, the non-compete agreement was invalid and unenforceable. The employee also claimed to the extent the non-compete agreement was enforceable, he had not violated the non-compete agreement. The Court ruled the agreement was enforceable and that the employee had violated the agreement. The parties quickly settled the issue of damages after trial. Jennifer has appeared in numerous employment matters addressing non-compete agreements, discrimination and termination issues.