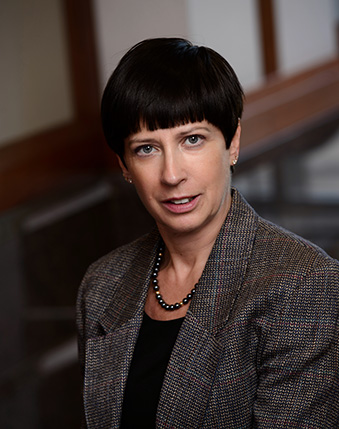 Laura L. Myslis
Laura brings compassion into her everyday practice of law. She is grateful for all the opportunities she has had to assist clients, handle interesting cases and achieve the best possible outcomes. Laura believes that a work-life balance is essential to staying focused and aggressively representing her clients.
Laura specializes in workers' compensation defense, personal injury defense, employment litigation and consumer litigation defense. She is quite experienced in appellate practice and has argued many cases before the Eighth Circuit Court of Appeals, the Minnesota Supreme Court, the Minnesota Court of Appeals and the Workers' Compensation Court of Appeals. She routinely represents employers and insurers at workers' compensation hearings throughout Minnesota, and has defended employers against discrimination claims at the federal and state levels on numerous occasions. She is experienced in personal injury defense trials as well.
Areas of Expertise
Finance & Banking
Employment & HR Consulting
Insurance
Workers' Compensation

Insurance Agents' Errors & Omissions

Professional Liability

Employment

Auto Insurance
Litigation
Employment Litigation

Workers' Compensation Defense

Mediation & Arbitration

Insurance Defense
Experience
Motion for Summary Judgment

In a lawsuit alleging violation of the Family and Medical Leave Act against a banking institution, we filed a Motion for Summary Judgment seeking dismissal of the case. Supporting that motion in part was evidence that plaintiff was trying to start her own business on company time. Rather than opposing the motion, plaintiff voluntarily dismissed her lawsuit with prejudice.

Workers' Compensation

A caretaker of apartment buildings for a property management company in Duluth sustained a severe injury to his low back while shoveling snow. He filed a workers' compensation claim, asserting he was permanently, totally disabled. Months after the work injury, the employee fell off the stairs of a friend's deck that did not have a handrail, worsening his low back condition. The compensation judge ruled that the Employee's fall from the stairs did not result from his leg giving out due to the work injury, and thus he was not entitled to workers' compensation benefits. In so doing, the judge adopted the testimony of our medical expert over that of the employee's medical expert. The ruling was affirmed on appeal by the Workers' Compensation Court of Appeals.

Claim for workers' compensation benefits

An employee of a vending company injured her low back while pulling a heavy cart filled with products. She briefly treated and returned to work, telling the insurance adjuster handling the workers' compensation claim that she was fine. The employee later retained counsel, started treating again with a neurologist, and filed a claim for workers' compensation benefits. The deposition of the adjuster was taken, and both sides deposed medical experts. The compensation judge denied the claim in its entirety, adopting the opinions of our medical expert over the opinions of the treating neurologist. In her decision, the compensation judge relied on testimony unfavorable to the employee given by her treating neurologist on my cross examination. The employee did not appeal the decision.