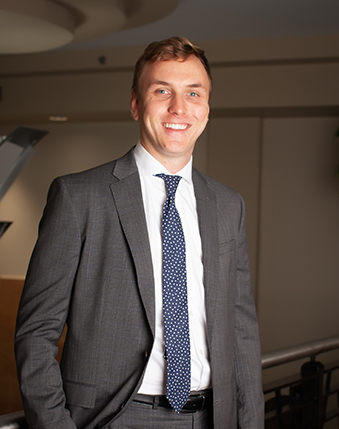 Rhett P. Schwichtenberg
Rhett Schwichtenberg is an Associate Attorney building his practice on advising a variety of agribusinesses, growing and emerging companies of all sizes. He is dedicated in representing the best interests of his clients through the foundation to the succession plan and all aspects in between including financing projects, corporate agreements, mergers and acquisition transactions, general matters, estate planning, wills and trusts.
Rhett is a graduate of the University of Minnesota Law School, Juris Doctor with a Business Law Concentration primarily focused in tax law, and a graduate of Gustavus Adolphus College with a Bachelor of Arts in Public Accounting.
Rhett enjoys mountain biking, rock climbing and music production, along with working with his parents' vineyard located in Waterville, Minnesota.
Areas of Expertise
Agriculture Law & Agribusiness
Estate & Succession Planning
Business & Corporate Law
Partner & Shareholder Agreements

Mergers & Acquisitions
Trusts & Estates
Wills, Trusts, Codicils & Powers of Attorney
Experience
Hemp and Marijuana Law

Rhett Schwichtenberg is Gislason & Hunter's cannabis expert. Rhett is active in the hemp and overarching cannabis industry. He followed federal legislation leading up to the passage of the 2018 Farm Bill, legalizing industrial hemp and continues to track legislation impacting the industry. Rhett is passionate about advising growers, processors, cannabis-related businesses, and financial institutions. His ag background and experience with the agribusiness lifecycle enable him to assist cannabis-related businesses from the initial planning phase and formation to succession. Rhett has advised multiple banking and lending institutions on navigating the current regulatory landscape. Rhett pairs his business and legal acumen with first-hand experience, farming 143 acres of hemp with his father on their family's century farm. These skills have made Rhett a serious practitioner in the hemp and marijuana industry. Rhett is a member of the Minnesota Hemp Association.

Estate and Trust Planning

Rhett Schwichtenberg has provided succession planning for individuals and families ranging from drafting basic powers of attorney, health care directives, and wills, to complex tax planning. Focusing his law school tenure on tax and estate planning, Rhett has a passion for helping his clients establish an effective and comprehensive estate plan.

Probate Litigation

Rhett Schwichtenberg has successfully settled a large probate estate involving a family farm and navigated a contentious sibling and third-party dispute to obtain a strong settlement for clients.

Guardianship and Conservatorship

Rhett Schwichtenberg has represented clients in establishing guardianships and conservatorships, both contested and uncontested, possessing experience in the entire litigation process.

Tort Law

Rhett Schwichtenberg represents individuals and families in tort litigation cases ranging from dog bite cases to wrongful death actions.

Ditch and Drainage Law

Rhett Schwichtenberg has represented multiple landowners in petitioning ditch assessments in a joint ditch system.

Business Planning

Rhett Schwichtenberg has assisted businesses with entity selection, formation, operation, and dissolution

Lending Disputes

Rhett Schwichtenberg has represented financial institutions in successfully obtaining money and replevin judgments against debtors in default.