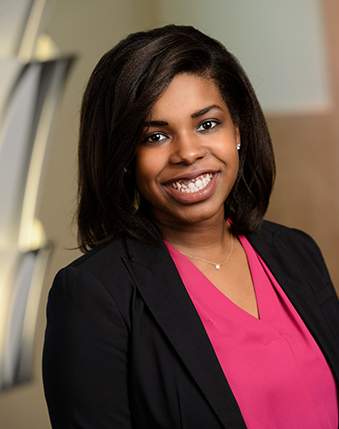 Brittany R. King-Asamoa
Brittany focuses her legal practice on employment law and civil litigation. She represents companies, farmers, agribusinesses and individuals in all areas of employment law. She writes and speaks on new laws impacting companies in the areas of employment, business and agricultural law.
Brittany received her Juris Doctor, cum laude, from the University of Arkansas School of Law. She gained valuable legal experience as a legal extern for Tyson Foods, Inc., in Springdale, Arkansas. She is also a graduate of Minnesota State University, Mankato with a Master of Business Administration and a Bachelor of Science in Human Resources Management.
Areas of Expertise
Agriculture Law & Agribusiness
Business & Corporate Law
Employment & Human Resources
Finance & Banking
Employment & HR Consulting
Litigation
Business Torts Litigation

Insurance Defense

Employment Litigation
Experience
Litigation

Although she finds it preferable to prevent employment disputes on the front end, Brittany King-Asamoa is experienced in litigation matters and equipped to handle employment disputes brought before the court. Her practice includes civil litigation and insurance defense, whereby Brittany frequently represents insured individuals and corporations in tort litigation. Her representation extends to all stages of litigation including written discovery, depositions, motion practice, settlement negotiations, and trial. In 2017, she assisted a local fitness facility defeat claims of negligent supervision, negligent hiring, negligent retention, and emotional distress (among other torts). Brittany performed extensive legal research and collaboratively drafted the facility's motions for judgment on the pleadings and summary judgment.

Custody and Parenting Time Determinations

As a member of Gislason & Hunter's Family Law & Divorce Practice Group, Brittany King-Asamoa has drafted many motions and affidavits regarding child custody and parenting time determinations for parents. She takes great pride in assisting clients articulate and communicate to the court what is in their children's best interest with regard to custody and parenting time determinations.

Performs Audits for Exempt and Non-Exempt Employment Status Identification

Proper identification of an employee's entitlement to overtime pay or exemption from overtime laws is vital for employers. The ramifications for erroneously identifying an employee as exempt from overtime can be disastrous. Brittany King-Asamoa has performed position audits for multiple companies to assist employers with finding the proper identification of individuals exempt from overtime pay under the federal Fair Labor Standards Act and the Minnesota Fair Labor Standards Act.

Appealing Awards of Unemployment Compensation

Brittany King-Asamoa has successfully represented numerous employers in evidentiary hearings challenging eligibility determinations for unemployment compensation.

Employment Administrative Proceedings

Brittany King-Asamoa is experienced with the administrative proceedings involving an employment charge filed with the EEOC and Minnesota Department of Human Rights. She has assisted in the defending against charges and represented employers in EEOC conciliation proceedings, as well as respond to requests for information during EEOC investigations.

Presents on Employment Law Developments

Brittany King-Asamoa routinely monitors employment law developments and trends to keep employers apprised of compliance issues. She frequently presents and writes articles about employment law matters including, but not limited to, sexual harassment, #MeToo, the Family Medical Leave Act (FMLA), the Americans with Disabilities Act of 1990 (ADA), the Fair Labor Standards Act (FLSA), National Labor Relations Act (NLRA), and other laws enforced by the U.S. Equal Employment Opportunity Commission (EEOC) and Department of Labor.

Employment Policies, Agreements and Employee Handbooks

Experienced and passionate about assisting employers and their human resources professionals craft employment policies designed to comply with the law as well as practically address and minimize workplace issues. Brittany King-Asamoa also has experience drafting agreements that best fit the needs of employers including, but not limited to, non-competes, independent contractor, non-disclosure and confidentiality agreements and assignments of intellectual property rights.

Workplace Investigations

Brittany King-Asamoa has valued experience performing workplace investigations regarding reports of discrimination, sexual harassment, and general non-compliance with employment laws. She takes great pride in performing these investigations with an eye toward counseling employers and management about compliance issues, as well assisting employers in identifying problem areas and solutions.