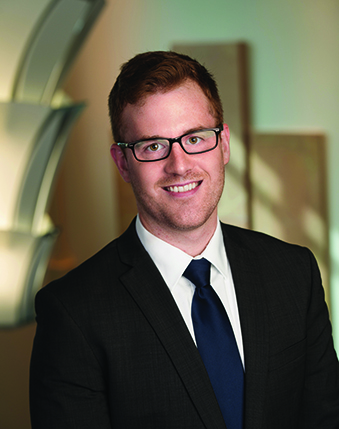 Christopher E. Bowler
Christopher is an associate attorney building his practice by advising emerging and growing companies and agribusinesses from their foundation to exit through lending and financing projects, corporate agreements, mergers and acquisition transactions and general business litigation matters.
As a past Law Clerk and Legal Intern for private firms, Christopher obtained valuable experience in a variety of fields including business, banking, agricultural and family law.
Areas of Expertise
Agriculture Law & Agribusiness
Planning, Zoning & Land Use

Ag Financing & Debt Restructuring

Intellectual Property Rights
Business & Corporate Law
Business Entity Law and Formation, including LLC's, Partnerships and Corporations

Partner & Shareholder Agreements

Contracts

Commercial Real Estate

Creditors' Rights
Finance & Banking
Business Planning & Administration

Loan Workouts

Collection Actions

Reorganization & Bankruptcy
Intellectual Property
Trade Secrets & Non Competes

Trademarks
Litigation
Ownership Disputes & Dissolutions

Business Torts Litigation

Banking Litigation

Real Estate Litigation

Property Disputes & Land Use
Real Estate, Environmental Law & Land Use
Compliance & Permitting

Financing
Experience
Commercial and Agricultural Collection Actions

Christopher Bowler has assisted in the collection of secured and unsecured commercial and agricultural debts ranging in value from tens of thousands to millions of dollars.  Chris' collections experience includes pre-litigation case assessments; foreclosures by advertisement; drafting complaints and commencing lawsuits; early motions, such as replevin and foreclosure motions; discovery matters, including written discovery, depositions, and discovery motions; dispositive motions; and post-judgment collection efforts.

$300 Million Loan Refinancing

In early 2017, Christopher Bowler assisted in a loan refinancing project that resulted in a $300 million syndicate loan.  Chris' involvement in the refinancing project included drafting multiple promissory notes, perfecting security interests in multiple states, and verifying the enforceability of mortgages and collateral assignments filed on over 50 different parcels of real property.

Contested LLC Non-Judicial Dissolution

In mid-2017, Christopher Bowler assisted one of two 50-50 limited liability company owners in the non-judicial dissolution of the LLC.  Although the dissolution process was highly contested, Chris was successful in negotiating the terms of the dissolution on behalf of his client without a need to seek judicial intervention.  Aside from this particular dispute, Chris also assists various types of business entities (such as corporations, LLCs, and partnerships) in various corporate governance matters.

Trademark Work

Christopher Bowler has assisted multiple clients with various trademark matters.  Chris' trademark experience includes advising clients as to the likelihood of trademark registration; drafting trademark applications and other filings; responding to office actions issued by the United States Patent and Trademark Office; advising clients regarding trademark infringement disputes; and drafting trademark licensing agreements.

Packers & Stockyards Act Work

Christopher Bowler has performed extensive research and other work related to the Packers and Stockyards Act—a federal antitrust statute directed at the livestock industry.  Chris' experience with the Packers and Stockyards Act includes advising clients as to potential risks under the Act and co-authoring an article set to be published in the Mitchell Hamline Law Review.