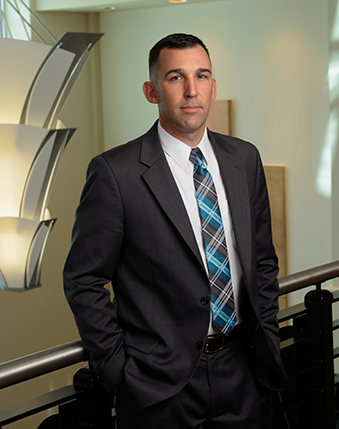 Cory A. Genelin
A professional problem solver, Cory Genelin combines knowledge of the law with common sense and leadership experience. Cory's practice includes civil litigation, employment law, business and banking law.

Cory is the Chair of Gislason & Hunter's Employment , Labor and Benefits Practice Group. He serves as employment counsel for many large and small businesses in southern Minnesota. While no stranger to litigation, Cory excels at producing policies, handbooks and checklists designed to keep problems from ever starting. More importantly, Cory provides his clients with the training they need to implement these policies.

Cory has tried over 100 cases to a verdict including jury trials, court trials, cases before Administrative Law Judges, and even Courts Martial. Cory has litigated cases on contracts, land use, corporate shareholder actions, creditor's rights, car accidents, will contests, trust disputes, permitting, sexual harassment, employment discrimination, and more. Many of these cases are referrals from local attorneys who respect Cory's ability to deal with litigation efficiently and care for their clients. In planning and executing complex litigation, Cory draws on his experience as a decorated combat leader. He is able to implement discovery and litigation strategy to attack an opponent's weakness and keep litigation focused on what matters.

Cory serves as general counsel to many mid-sized companies in southern Minnesota. Industries such as Agriculture, Manufacturing, Construction, Finance and many more call upon Cory to provide guidance and counsel on a variety of business and strategic planning issues. He exceeds at working with leadership teams to produce industry-specific business goals with an eye on growth and opportunity. He also serves as a valuable resource to his legal colleagues in providing specific expertise to complex business issues.

Cory also represents multiple lenders in southern Minnesota and the metro area. Drawing on Gislason & Hunter's vast resources and experience in banking law, he provides expert and efficient representation on foreclosures, debt collection and work out agreements.

Cory is a Lieutenant Colonel in the Air National Guard with nearly 20 years of service. In his role as the Staff Judge Advocate for the 119th Wing in Fargo, North Dakota, Cory acts as in-house counsel, advising and representing the Wing Commander on a wide range of issues including employment and labor law, contracting, environmental law, military justice, international law and the Law of Armed Conflict. Cory brings this in-house perspective to his civil practice; he looks beyond the immediate issue and to the long term success of every client.

Cory is a native and resident of Le Sueur, Minnesota. He grew up working in agriculture. In his spare time he enjoys coaching youth wrestling and football, fishing, hunting, hobby farming and spending time with his wife and four children. Prior to his legal career Cory served as an Air Battle Manager, leading the Operations Section aboard the USAF's E-8C Joint STARS. His duties included complex mission planning, intelligence collection, and airborne command and control of close air support, strike aircraft, and artillery. He is a decorated combat veteran of Operation Iraqi Freedom.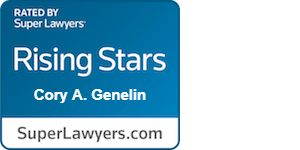 While court victories are interesting, most clients prefer solutions that don't involve court. Cory's practice includes servicing as corporate counsel for many businesses in Southern Minnesota. Most of his files are small matters wherein a business owner or manager has a tough decision to make; Cory is brought in; the issue is dealt with; and business carries on.
Many of these small problems include employment issues which have the potential to become large problems. In the past 24 months Cory has dealt with wrongful termination allegations, sexual harassment allegations, claims under the Minnesota Veterans Preference Act, non-compete enforcement and avoiding non-compete violations, unemployment claims, Worker's Compensation fraud and wage and hour claims.
Cory provide vital expertise in a variety of practice areas including Labor & Employment. His expertise includes counsel on employment actions, terminations and discipline; employment agreements, policies and handbooks; labor arbitration; labor relations and negotiations; workplace health and safety, OSHA; employee benefits, ERISA; and  workplace training on harassment, discipline, drug testing and other issues.
Areas of Expertise
Agriculture Law & Agribusiness
Planning, Zoning & Land Use

Ag Financing & Debt Restructuring

Employment Matters

Ag Litigation
Business & Corporate Law
Employment & Human Resources
Finance & Banking
Loan Transactions

Collection Actions

Employment & HR Consulting

Bank Litigation

Commercial Lending

Corporate Governance
Insurance
General Liability

Personal Injury

Employment

Auto Insurance
Litigation
Commercial Litigation

Ownership Disputes & Dissolutions

Business Torts Litigation

Employment Litigation

Insurance Defense

Construction Litigation

Banking Litigation

Real Estate Litigation

Property Disputes & Land Use

Regulatory Compliance & Defense

Mediation & Arbitration
Trusts & Estates
Conservatorships

Guardianships

Estate & Probate Litigation
Experience
Keeping Small Things Small

While court victories are interesting, most clients prefer solutions that don't involve court. Cory Genelin's practice includes serving as corporate counsel for many businesses in Southern Minnesota. Cory aims to keep small problems small. Most of Cory's employment files are small matters that Cory keeps small—a business owner or manager has a tough decision to make; Cory is brought in; the issue is dealt with; and business carries on. These include wrongful termination allegations, sexual harassment allegations, claims under the Minnesota Veterans Preference Act, non-compete enforcement and avoiding non-compete violations, unemployment claims, Worker's Compensation fraud and wage and hour claims.

Employment Handbooks and Policies

Cory Genelin draws on his experience as a combat leader to draw up plans and policies designed to help an organization operate effectively and accomplish the mission while staying within the bounds of the law. Cory Genelin has drafted custom employment handbooks and employment policies for employers of all sizes including nursing home chains, group homes, hospitals, manufacturers, publishers, and agricultural producers.

Lending Litigation

In 2017 Cory Genelin concluded multiyear litigation on behalf of a farm lender over a $3.125M agricultural loan assigned from another bank. The debtors defaulted and then denied any liability to the lender. (One of the debtors even denied the lender existed!) Prior to litigation, the debtors had liquidated collateral, and mingled assets with another operation. A farm visit to inspect collateral turned violent and law enforcement was called.

The debtors alleged the entire panoply of spurious counterclaims including FDCPA violations, Minnesota Farm Lender Act violations, fraud and theft.

After discovery, depositions and motion practice Cory got the debtors to reverse course, admit liability, and give up on their counter claims. They executed a confession of judgement and eventually paid off the debt in full including interest, penalties, and attorney fees.

See Sherburne County File No. 71-CV-16-1448

Permitting

In 2016 Cory Genelin defended a building permit for a hog confinement facility on behalf of a local producer. The township issuing the permit had made some procedural mistakes and issued insufficient findings. A neighboring property owner hired an attorney who specializes in fighting feedlot permits. The neighbor argued that an abandoned house was a residence in violation of the setback requirements. After litigation and three motions an improved permit was issued and the facility was built.

See Freeborn County File No. 24-CV-15-849

Tort Litigation

In 2017 Cory Genelin obtained summary judgment on behalf of a large fitness center and social organization. A patron accused the organization of assault, intentional infliction of emotional distress, negligent infliction of emotional distress, negligent hiring, and negligent retention after one of the organization's employee's allegedly threatened the patron. Mr. Genelin conducted depositions of witnesses and discovery of medical records and had the entire case dismissed.

See Blue Earth County File No. 07-CV-16-516

In 2018 Cory obtained a favorable jury verdict on behalf of an in-home care business accused of negligence in securing a wheelchair occupant.  Cory Genelin defeated claims for pain and suffering, wage loss, loss of consortium and medical bills in excess of $150,000.

See Olmstead County File No. 55-CV-16-8667

Agricultural Trust Litigation

In 2016 Cory Genelin defended the administration of two farm trusts valued at $5.2M. This followed previous litigation in 2014. In that litigation, Mr. Genelin had the court appoint a new trustee favorable to his client, the lifetime beneficiary of the trusts. After two years of favorable administration, a death beneficiary of the trust (who was also one of the trustees who lost power in the 2014 litigation) brought suit to remove the trustee and undo over $320,000 in payments to Mr. Genelin's client. After full litigation, the court upheld the actions of the new trustee including the payments to Mr. Genelin's client.

See Nobles County File #No. 53-CV-14-223

Corporate Litigation

In 2018 Cory Genelin represented a shareholder in a $40M manufacturing company.  A fellow shareholder attempted to lock Cory's client out of management and force redemption of his shares.  In one week Cory brought suit and successfully enjoined the action and secured full control of the corporation for Cory's client.  Six months of intense litigation followed including successful defense of the injunction, thousands of pages of discovery, and nine depositions spanning several states and two countries.  After a week-long trial, Cory's client's rights were vindicated.

See Le Sueur County File No. 40-CV-18-19

In 2017 Cory Genelin obtained summary judgement in favor of a local corporation which had made a Subchapter S conversion. Two shareholders dissented from the conversation offered. Mr. Genelin brought suit, investigated the claims, and established as a matter of law that the corporation valuation was correct.

See Nicollet County File No. 52-CV-16-225

Construction Arbitration

In 2016 Cory Genelin represented a commercial construction contractor in arbitration. Mr. Genelin's client had terminated an excavation subcontractor due to delays. The subcontractor brought suit in arbitration, claiming over $550,000 in lost profits. Mr. Genelin prepared for arbitration, showing the severity of the subcontractor's nonperformance, and forced the subcontractor to settle for nothing more than what was owed on the work already completed.

Real Estate Litigation

In 2017 Cory Genelin brought a partition action that brought an end to years of wrangling over division of family farm property valued at $4.4M.  The swift litigation allowed each sibling to move forward with their own operations and end the dispute.

See Cottonwood County File No. 17-CV-16474

Estate and Trust Litigation

In 2018 Cory Genelin obtained an exceptional settlement on behalf of heirs of a $1.5M estate. The decedent had executed a will in favor of two strangers.  The heirs contested the will on the basis of undue influence and lack of capacity.  Cory and his team conducted an in-depth fact investigation raising serious doubts about the will and forcing the will proponents to concede

See Chippewa County File No. 12-PR-17-591

In 2016 Cory Genelin defended the administration of two farm trusts valued at $5.2M. This followed previous litigation in 2014. In that litigation, Mr. Genelin had the court appoint a new trustee favorable to his client, the lifetime beneficiary of the trusts. After two years of favorable administration, a death beneficiary of the trust (who was also one of the trustees who lost power in the 2014 litigation) brought suit to remove the trustee and undo over $320,000 in payments to Mr. Genelin's client. After full litigation, the court upheld the actions of the new trustee including the payments to Mr. Genelin's client.

See Nobles County File No. 53-CV-14-223