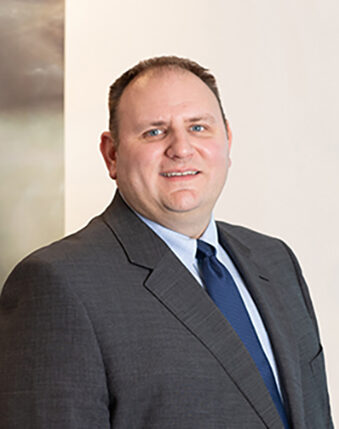 Andrew M. Tatge
Andrew M. Tatge is the Managing Partner of Gislason & Hunter LLP and leads the firm's family law practice group. In his law practice, Andrew represents business owners, farmers, professionals (doctors, lawyers, accountants, dentists, etc.)—or their spouses—and other individuals throughout Minnesota in a wide range of family law matters, including handling all aspects of complex and high net worth divorces and negotiating antenuptial and postnuptial agreements. With a knack for seeing the big picture and helping clients make good choices, Andrew tirelessly works to resolve matters with his clients' long-term best interests in mind.
While Andrew is far and away most proud of the many successful results he has achieved for clients outside of the courtroom—many times before a court case is even filed—he has also achieved significant success in motion practice, in trial, and on appeal, including having successfully argued significant family law cases before the Minnesota Court of Appeals and the Minnesota Supreme Court. Andrew enjoys solving complex and difficult issues and guiding his clients through what for many is the most emotional and difficult time of their lives. In addition to representing his clients, Andrew is a frequent lecturer on complex family law issues to both local and national audiences and co-authors the Financial Issues in Farm Divorce chapter of the Minnesota Family Law Financial Deskbook. His recent presentations include:
Farm Divorce Basics, Minnesota State Bar Association Family Law Section
Divorce for Farmers, National Business Institute
Divorce Law: Common Mistakes in Dividing Assets, National Business Institute
Financial Tracing in Divorce, National Business Institute
Dividing Assets in Divorce: The Ultimate Guide, National Business Institute
Family Law Case Management for Paralegals, Institute for Paralegal Education
Advanced Divorce: Your Top Questions Answered, National Business Institute
Child and Spousal Support: The Ultimate Legal Guide, National Business Institute
Divorce Law from A to Z, National Business Institute
Negotiating Divorce Settlements, National Business Institute
Dividing Trust Assets in Divorce, National Business Institute
Clients with significant assets, a farm, or other business appreciate Andrews's finance background and experience representing other businesses and business owners, along with his significant knowledge of farm, real estate, business valuation, accounting, and finance principles. Andrew also represents unmarried individuals in custody and parenting time matters, as well as those entering into cohabitation agreements to protect assets and income.
No matter what kind of case Andrew is handling, he understands and appreciates clients' concerns about the cost of legal services and utilizes his experienced staff and other attorneys in the firm to ensure that your financial resources are used efficiently and appropriately, and that the right person is doing the job.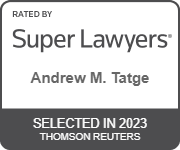 Andrew provides a full range of personal legal services for his and the firm's Minnesota clients, including:
Litigation Matters:
Paternity (issues arising between never-married parents)
Spousal Maintenance and modifications
Property Division (including farms, businesses, professionals, and high net worth cases)
High net worth and complex divorce cases, including cases involving complex tax, valuation, and discovery issues
Mediation, Social Early Neutral Evaluations, Financial Early Neutral Evaluations, and other Alternative Dispute Resolution procedures
Post-Divorce or Paternity matters, including modification of court orders and contempt of court matters
Interstate child custody jurisdiction and enforcement
Family law appeals
Transactional Matters:
Cohabitation Agreements
Domestic Relations Orders and QDROs
Estate planning guidance focused on protecting assets and income from divorce of the parties or their intended beneficiaries
Business planning guidance focused on protecting assets and income from divorce of business owners, "divorce proofing" businesses, and minimizing or eliminating other effects of divorce and family dynamics on businesses
Areas of Expertise
Family Law
Experience
Farm Divorce and Farm Family Law Practice

Andrew Tatge's experience representing clients in farm divorces is too extensive to list. In addition to teaching other attorneys throughout the country how to handle farm divorces, Andrew's family law practice is significantly devoted to representing clients whose assets include farms, farm property, and other agricultural businesses ranging in value from a few hundred thousand dollars to over one hundred million dollars. Andrew has represented grain farmers, livestock producers, and owners of other agriculture-related entities (or their spouses) in arriving at a fair and equitable division of marital property, as well as drafting antenuptial agreements to avoid the potential for disputes later in the marriage. Many of his farm divorce cases have involved significant nonmarital tracing claims, spousal maintenance claims, and complex tax or other issues. When appropriate, Andrew has devised and utilized unique and novel ways to keep farm operations intact post-divorce so that both parties can move on with life and the farm can be handed down to the next generation. Andrew has also successfully represented numerous clients in child custody, parenting time and child support disputes involving farms and farm families.

Business and Professional Practice Divorce

Andrew Tatge has represented owners of various businesses and professional practices in divorce and family law matters. Andrew has represented manufacturing company owners, dentists, doctors, accountants, bankers, pharmacists, chiropractors, engineers, lawyers, tech entrepreneurs, real estate professionals, construction company owners, insurance agents, investment advisors, and has handled divorces involving a number of other privately owned businesses. Andrew's experience in finance, accounting, and business valuation principles assists in guiding clients through the process quickly, efficiently, and cost-effectively. In many cases, he assists clients in reaching agreements without the need for expensive expert witness assistance. Andrew is acutely aware of a business owner's need to maintain the confidentiality of their business and financial affairs and works to protect the public disclosure of sensitive information.

High Net Worth Divorces

Divorces involving significant net worth sometimes require a team approach and the inclusion of additional lawyers and others with various expertise. If handled the right way, many of these cases can settle with the parties never having to set foot in a courtroom. Andrew Tatge has handled dozens of high net worth divorces and quarterbacks his team of Gislason & Hunter attorneys in other practice areas—such as real estate, banking and finance, agricultural law, and estate planning—to quickly and efficiently resolve divorce and ancillary issues.

Family Law and Divorce Appeals

Andrew Tatge has successfully argued before both the Minnesota Court of Appeals and the Minnesota Supreme Court. In several matters, he has successfully negotiated a settlement while appeals were pending.

Spousal Maintenance and Spousal Maintenance Modification

Spousal maintenance is one of the most complicated family law issues in Minnesota. Andrew Tatge has handled dozens of maintenance cases—both initial determination matters and modification of previously court-ordered or agreed upon awards. Andrew is one of only a handful of attorneys in Minnesota to have successfully argued a spousal maintenance case to the Minnesota Supreme Court.

Antenuptial Agreements, Postnuptial Agreements, and Cohabitation Agreements

Andrew Tatge regularly assists clients in negotiating and drafting antenuptial and postnuptial agreements to protect pre-marital assets and assist in providing greater certainty for married parties in the event of divorce or upon a spouse's death. Although still relatively rare in Minnesota, Andrew has experience drafting and negotiating cohabitation agreements, including agreements involving substantial assets, interstate and jurisdictional issues, and unique maintenance and payout-related agreements.

Farm Divorce

Andrew Tatge represented wife in long-term marriage; matter resolved at mediation with wife receiving spousal maintenance, significant cash payment, and all requested assets. Matter involved valuation of farm land, machinery and livestock and disagreement over non-marital assets

Farm Divorce

Andrew Tatge represented husband in long-term marriage with minor children; secured property settlement allowing husband to retain family farm with property settlement payout to wife over time.

Business Divorce

Andrew Tatge represented wife in long-term marriage; matter resolved at mediation with wife receiving spousal maintenance, requested disposition of assets and significant cash payment.

Business Divorce

Andrew Tatge represented husband, a shareholder in several family-owned businesses, in divorce involving minor children. Secured significant parenting time, waiver of spousal maintenance by spouse, and requested disposition of assets, including marital and non-marital assets.

Business Divorce

Andrew Tatge secured temporary order for wife of business owner including no-contact order granting wife homestead, custody and requiring husband to pay for all expenses of wife on an ongoing basis.

Dentist Divorce

Andrew Tatge represented dentist in marriage without children; secured stipulated resolution without mediation allowing client to retain all interests in practice and avoid spousal maintenance.

Antenuptial Agreement

Andrew Tatge represented farmer with over $5 million in pre-marriage assets, preserving non-marital characteristic of assets and any increase in value, including through active appreciation and secured waiver of future spousal maintenance.

Antenuptial Agreement

Andrew Tatge represented farmer and business owner with pre-marriage assets of $1 million protecting assets, inheritance and securing waiver of future spousal maintenance.

Farmer Child Custody Dispute

Andrew Tatge secured primary custody for father (a farmer) after two-day court trial where farm lifestyle and alleged dangers of farming were claimed by urban-dwelling mother.