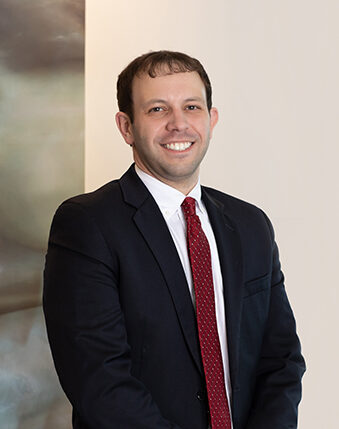 Rick J. Halbur
Rick Halbur, a partner of Gislason & Hunter LLP, focuses his practice on civil and general litigation related to finance and banking, bankruptcy, agriculture law and agribusiness, real estate, environmental law and land use. He provides client-centered representation to his individual and corporate clients.
Halbur primarily represents banks and other lenders in the agricultural industry. Growing up on a family farm, he understands the challenges of raising livestock and growing crops and the important role credit plays for farming operations. This first-hand experience allows him to provide perspective to his clients in agricultural lending. He also has extensive experience researching and executing a variety of agricultural, real estate, banking, finance and multi-state appellate and collection matters.
Attention to detail, strong communication skills and creative problem solving are all attributes that make Halbur a successful litigator.
In his spare time, Halbur enjoys hiking, canoeing, traveling and spending time with his family. Halbur resides in New Ulm with his wife, Annemarie and their three young children.
Areas of Expertise
Agriculture Law & Agribusiness
Ag Litigation

Agribusiness Formation & Transactions

Agriculture Contracts
Finance & Banking
Commercial Lending

Loan Transactions

Loan Workouts

Reorganization & Bankruptcy

Bank Litigation
Litigation
Banking Litigation

Civil Appellate Law

Commercial Litigation

Property Disputes & Land Use

Real Estate Litigation
Real Estate, Environmental Law & Land Use
Experience
Banking Litigation and Bankruptcy Work

Rick Halbur has represented multiple banks and lenders in a wide array of banking and bankruptcy-related litigation.  For example, Rick represented a lender in a bankruptcy case where his client had a secured claim in excess of $17 million.  Rick also represented a bank in litigation involving the enforcement of a $400,000.00 mortgage and associated personal guaranty.  Rick also has extensive experience representing lenders in foreclosure actions valued in excess of $500,000.00. Finally, Rick also represented a lender in a breach of contract action involving the non-payment of crop insurance proceeds, and Rick's success in this case was affirmed on appeal by the Minnesota Court of Appeals.

Real Estate Litigation

Rick Halbur has represented many clients across Minnesota in an extensive amount of real estate litigation involving novel and complicated issues of first impression. For example, Rick has been involved in multiple mechanics lien actions, representing both plaintiffs and defendants. Rick has also litigated several easement disputes, and he has prevented future litigation by proactively drafting new easement agreements for clients. Rick has also successfully represented clients in contested actions to determine adverse claims (commonly referred to as quiet title actions) and boundary disputes involving real estate worth hundreds of thousands of dollars.

General Commercial and Agricultural Litigation

Rick Halbur has assisted in litigation involving secured and unsecured commercial and agricultural debts.  Rick's work includes representing defendants opposing the collection of alleged debts, as well as representing plaintiffs in collecting upon debts.  For example, Rick has represented clients who have been sued for alleged breaches of contracts ranging in value from a few thousand dollars to amounts in excess of $1 million.  Rick also represented a client in federal court and obtained a judgment in excess of $500,000.00.